TSPSC Group 3 2022
TSPSC Group 3 2022 Notification: Telangana State Public Service Commission conducts a group 3 Exam every year to shortlist the eligible candidates for various Group 3 vacancies. TSPSC Group 3 Exam is conducted for recruitment into positions such as Junior Assistant, Typist and Junior Stenographer. For the ease of applicants, the descriptions of the TSPSC Group 3 posts has been discussed in the article below. A total of 1373 vacancies have been announced for Group 3 posts. The detailed TSPSC Group 3 notification will be uploaded on the official website https://www.tspsc.gov.in with all the required details of the recruitment drive. 
TSPSC Group 3 Recruitment 2022- Overview
TSPSC Group-3 Recruitment 2022 for available vacancies of Group-3 is a wonderful prospect for all the public job applicants who are studying for TSPSC jobs. Selected candidates from the examination will be hired into various government departments, such as Intelligence, Agriculture, Endowment, and so on.
TSPSC Group 3 Recruitment 2022  
Organization Name
Telangana State Public Service Commission
Post Names
Group 3 Services
Total Vacancies
1373
Notification Release Date
to be notified
Application Mode

Online

Category
Govt. Jobs
Selection Process
Written Exam
Job Location

Telangana

Official Site
https://www.tspsc.gov.in
TSPSC Group 3 Vacancy 2022
A total of 1373 TSPSC Group 3 vacancies has been announced by TSPSC. The category-wise vacancies for the job will be displayed shortly when they are published on TSPSC online website. Meanwhile, interested and eligible candidates can review the previous year's vacancies, which are listed below:
Name of the Post
Number of vacancies

Junior Assistant in Backward Classes Welfare Department

2

Junior Assistant in Registration and stamps department

6

Junior Assistant in office of Transport Commissioners

9

Endowment Department

Junior Assistant

12

L.D Steno

1

Chief Commissioner of Land Administration (CCLA) Department

Junior Assistant

13

Typist

8

Home Department

Junior Assistant

23

Typist

5

Junior Assistant in Sugar Cane Department

5

Panchayat Raj Department

Junior Assistant

24

Typist

10

Disaster Response and Fire Services

Junior Assistant

2

Typist

2

Junior Assistant cum Typist

109

Junior Assistant in I and CAD Department

4

CID Department (HOME)

Junior Assistant

2

Junior Stenographer

4

Intelligence Department

Junior Assistant

7

Typist

2

Junior Stenographer

3

Junior Assistant in Agriculture and cooperation Department

3

Junior Assistant in TS Police Housing Corporation Ltd.

32

Junior Assistant in Corporation and Register of Co-Op society

3

Commissioner of State Tax Department

Junior Assistant

7

Typist

4

Junior Stenographer

2

Junior Assistant in General Administrative Department

25

BC Welfare Department (MJPTBCWREIS)

10

Total Vacancy
339
TSPSC Group 3 2022 Apply Online
Applicants must submit an application through the Telangana Public Service Commission's web page to apply for TSPSC Group 3 Recruitment 2022. Applicants are encouraged to apply online as soon as feasible rather than waiting until the last day to register. There will be two stages to the enrollment process. The very first phase necessitates the payment of the registration digitally, whereas the second part necessitates the aspirant's completion of the registration. Applicants are urged to print the application for future reference.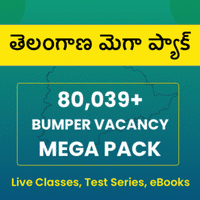 Steps to Apply for TSPSC Group 3
The following procedure can be useful for candidates who are looking to apply online for TSPSC Group III 2022. 
Step 1: Registration
The first step is to register.

Go to www.tspsc.gov.in to access the official website.

Select the "New" tab under One-Time Registration on the main website.

Complete the TSPSC OTR in its entirety.

Digital copies of your sign and photograph should be uploaded.

Finish the OTR procedures and save a record of your registration ID and passcode for subsequent use.
Step 2: Online Application
To finalize the application form completion, go to the online webpage. To continue with the remainder of the online application, follow the link with your identity and notification number, then enter your TSPSC ID and personal details.

Applicants must review information retrieved from several sources relating to education, religion, and other pertinent information appearing on the screen.

If the information provided is correct, click on the confirm option. 

If no information is displayed, a dialog box will pop up, prompting applicants to personally provide information. Using the upload button, upload the necessary documentation.

Applicants must select notification-specific information such as the exam centers, their age and qualification, as well as other critical information.
Step 3: Fees Payment
After you've entered all of your information and submitted your entry, you'll need to pay the application cost online.

Candidates will be forwarded to the SBI E-payment pay channel.

Once you pay the cost, a PDF TSPSC Group 3 application form including the candidates' information will be issued. 
Step 4: Printing The Application Form
Once all the above processes are completed, candidates are advised to take a printout of their application form for future reference. 
TSPSC Group 3 Application Fees
Candidates must submit an application fee in order to participate in the TSPSC Group III Examination 2022. Since the officials have not yet announced an updated fee schedule for 2022, the fee scheme from the prior year is offered below as a guide: 
Category
Application Fee

For UR Category Applicants

Rs. 100/- (Application Fee)

Rs. 120/- (Examination Fee)

SC/ ST/ Ex-servicemen/ BC/PH applicants

Rs. 100/- 
TSPSC Group 3 Documents Required For Form Fill-up
The following are the required documents for TSPSC Group 3 Registration Application:
Evidence of Academic Qualification

Declaration of unemployment 

Evidence of date of birth

Certificate of no objection from the employer

Income certificate, wherever applicable

Aadhar Card 

Wherever applicable, certification of caste

Certificate of Participation in the Community (minority or Non-minority)

The kind of disability must be specified on the disability document. 
TSPSC Group 3 2022 Eligibility
Each year, the TSPSC Group III eligibility standards are anticipated to stay the same. Because the governing regulators have not yet announced the most recent eligibility criteria for 2022, we have used the preceding year's requirement. The foremost requirement is for the candidate to be a citizen of India. 
TSPSC Group 3 Educational Qualification
Candidates must have completed their Intermediate or Bachelor's degree in the topics they are applying for.

If candidates want to apply for the TSPSC Group III exam digitally, they must first meet the minimum academic qualifications.

To compete for a Typist position, you must be able to type.

The eligibility criteria for the TSPSC Group III exam, including educational qualifications, will be listed in the exam announcement on TSPSC's online web page.

TSPSC's educational requirements for Group III positions are likely to stay unchanged from past years. 
TSPSC Group 3 Age Limit
Applicants must be at least 18 years old to advance with the registration.

They can enroll till they are 36 years old.
The following is the rule for age relaxation:
Candidates who are SC, ST, or OBC will be given a 5-year period of relaxation.

Candidates with physical disabilities will be given a ten-year reprieve.

Employees of the state authority will be given a five-year reprieve.

Candidates with a history in N.C.C. or who have served as N.C.C. trainers will receive a three-year relaxation period. 
TSPSC Group 3 Selection Process
TSPSC conducts written tests for vacant positions in Group 3. Candidates who qualify these tests are asked to submit their documentation for verification. 
TSPSC Group 3 2022 Exam Pattern
Since no significant modifications in exam procedures have been announced by the TSPSC board's administrations, the exam pattern for 2022 is anticipated to be much like previous years.
Paper
Question Type
Subject
Total Questions
Marks
Duration

 

Paper I

 

Objective Questions

General Abilities and General Studies

150

150

150 minutes

 

Paper II

History, Polity & Society

150

150

150 minutes

Paper III

Development & Economy

150

150

150 minutes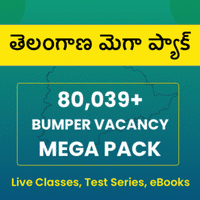 TSPSC Group 3 Syllabus 2022
The Group III examination is usually divided into three parts by TSPSC:
Paper
TSPSC Group III Syllabus

 

Paper I

General Studies and General Abilities

World Geography

Indian Geography

Telangana State Geography

Cultural Heritage and History of India

Social Exclusion

Rights Issues

Inclusive policies

Policies of the State of Telangana 

Basic English (up to 8th grade)

Regional Current Affairs

National Current Affairs

International Current Affairs

General Science: India's Technology

Society, Heritage, Literature, Arts, and Cultures of Telangana

Logical Reasoning: Data Interpretation and Analytical ability

Disaster Management: Prevention and Mitigation strategies

Environmental Concerns

International Events and Relations

Paper-II

History, Political Science, and Society

Socio-Cultural characteristics of Society in Telangana

Remarkable features of Indian Society: Caste, Religion, Tribe, Marriage, Family 

Social Issues:

Communalism, Casteism, Child labor, Violence against women, Disability. 

Social Movements:

Women's Movements, Dalit Movements, Peasant's movement, Environmental Movements, Human Rights Movements.

Social issues of Telangana:

Child Labour, Fluorosis, Girl Child, Vetti, Jogini, Migration, and Framer's and weaver's labor.

Welfare Programmes:

Employment, Rural and urban, Tribal welfare, Poverty Alleviation

Paper III

Economy and Development

Issues and challenges of Indian Economy

Enhancement and Outgrowth:

Relationship between growth and enhancement

Concepts

Economic Growth measurement:

Definition, concepts of Natural Income

Real and nominal income

Poverty and unemployment:

Measurement of Poverty

Definition and types of unemployment

Planning in Indian Economy: 

Priorities, Objectives, achievements, and strategies of five-year plans.

Issues of Developments and change:

Sustainable Development and goals, Concepts and Measurement

Displacement and Development:

Land Acquisition Policy

Rehabilitation and Resettlement

Economic Reforms:

Inequalities, Growth, and Poverty

Social security, Social Transformation 

Sustainable Development:

Sustainable Development Goals

Concept and Measurement of Development
TSPSC Group 3 2022 Salary
The qualified applicants would be paid between Rs. 10900 to Rs. 31550 per month. One of the motivating factors for candidates to perform well on the TSPSC Exam and gain a job with a successful future is the pay.
TSPSC Group-3 personnel enjoy a variety of fringe benefits in addition to a competitive level of pay.
Dearness Allowance

Leaves to pursue research

Medical Allowance

Pension

Internet Access

Allowance for Travel

Allowance for House Rent
Also Check;
TSPSC Group 1 Recruitment 2022 for 503 vacancy
TSPSC Group 2 Recruitment 2022 for 582 vacancy
TSPSC Group 4 Recruitment 2022 for 9168 vacancy
TSPSC Group 3 2022- FAQs
Q. What are the subjects in the TSPSC Group 3 exam 2022? 
Ans: Candidates will be questioned on their knowledge of General Studies, History, Political Science, Economics, Science and Technology and General Abilities. 
Q. What is the allotted time for writing TSPSC Group 3 2022 papers? 
Ans: Two and a half hours of the allotted time will be given to every candidate to finish their exam. 
Q. When will the TSPSC Group 3 2022 exam take place? 
Ans: The exam dates are yet to be announced. Candidates are requested to regularly check the official website of Adda247 for updates.